A small business owner based in Esperance, has recently become the first person in Western Australia to be jailed for gross negligence. Daren Kavanagh, WA WorkSafe commissioner hopes that this will encourage small business owners to start taking workplace safety seriously.
As we start to see a change in how gross negligence cases are dealt with, we are bound to see an industrial manslaughter legislation in WA very soon.
In this blog we explore this case in more detail, along with the major changes to the Work Health & Safety Act and how businesses can prepare.
Gross Negligence Case of the Esperance Small Business Owner
Mark Thomas Withers, the Director and small business owner of a shed building company was jailed for 8 months after multiple gross negligence claims were made, including the death of 25 year old, Jake Williams in March 2020. Williams was on the job when he fell 9 metres to his death with his co-worker falling 7 metres resulting in multiple fractures of the pelvis, hip, wrist and ribs.
The business was fined $605,000 for gross negligence and for breaching safety regulations.
This is the first gross negligence case in WA which has lead to a jail sentence. However, with the new WHS Act 2020 soon to enter the market with harsher rules and penalties, this won't be the last convicted case to be jailed under WA law.
Changes to the Western Australian Work Health & Safety Act 2020
In November 2020, parliament passed the Work Health and Safety Bill 2019 to soon become the WA WHS Act 2020.
The new Work Health and Safety Act 2020 (WHS Act) will replace the current:
Occupational Safety and Health Act 1984
Elements of the Mines Safety and Inspection Act 1994
Petroleum and Geothermal Energy Resources Act 1967
Petroleum Pipelines Act 1969
Petroleum (Submerged Lands) Act 1982; and
Petroleum and Geothermal Energy Safety Levies Act 2011
The main changes that WA businesses need to be aware of include:
Increased Penalties
The most important penalty increase to be aware of is the industrial manslaughter or gross negligence penalty. In the new Act this is a maximum penalty of $10 million, a $7.3 million increase from the previous Act.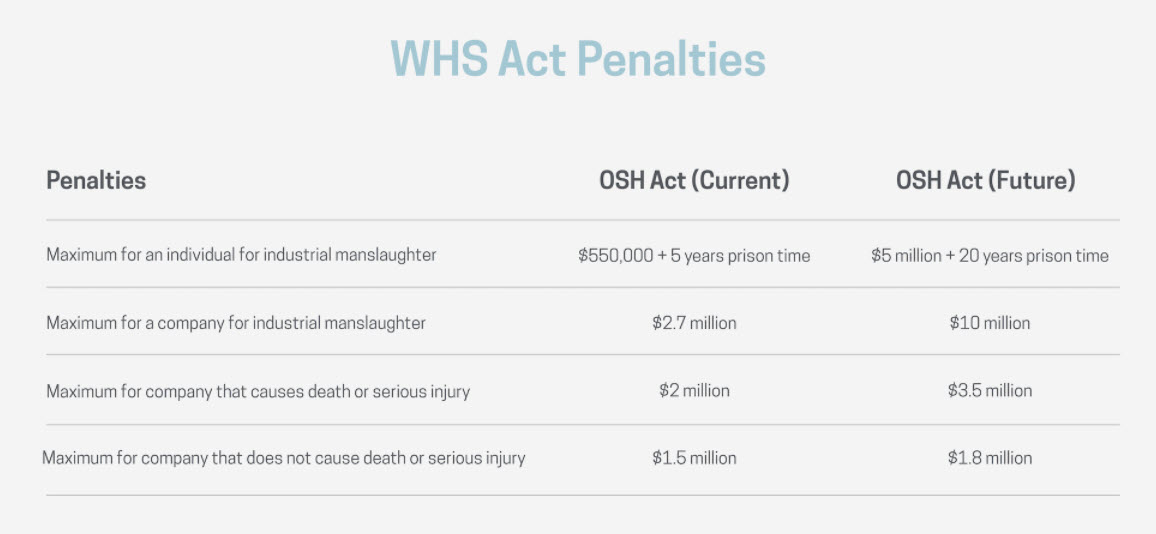 PCBU Equal Duty of Care
All PCBU's (Person Conducting a Business or Undertaking) are responsible for the duty of care of workers. PCBU encompasses an employer, corporation, partnership, association, sole trader, volunteer organization, independent school, local government and government department and authorities.
Equal duty of care for all PCBU means that even if you don't directly employ a person, you can still be prosecuted if something were to go wrong.
Industrial Manslaughter
An increase in penalties for industrial manslaughter is not the only thing changing, with individuals having the possibility of being prosecuted without the prosecutor convicting the company first. Previously, the company had to be convicted if an individual were to be convicted. However now it can be the individual only and if fined they will need to pay this out of their personal account – not the business'.
Insurance
The new 2020 Act prevents the convicted from paying for monetary penalties imposed under the Act with insurance. Legal Fees however can still be paid for using insurance. In addition to this, penalties will apply to those who insure or indemnify against fines under the Act.
Prosecution with No Event Occurrence
If a Director or Manager of a business does not demonstrate acceptable due diligence they can be prosecuted, even if an event or accident has not occurred. Making it prudent to understand how to ensure your business and the activities conducted follow due diligence requirements.
How Businesses Can Prepare For The WA WHS Act 2020
These new laws will ultimately impact everyone and senior Directors and Managers need to be prepared for when the WHS Act 2020 becomes the law. There are many ways businesses can prepare including:
Check your insurance policy with your insurance provider
Ensuring all Directors/Managers/Business Owners etc. are aware of the changes
Communicate these law changes with key stakeholders to help ensure everyone is well aware
Conduct a full audit of business procedures to ensure they are inline with new due diligence requirements
If you come across any errors in your procedures it is crucial you clearly identify these and correct these as soon as possible – we cannot stress this enough
According to the Government of Western Australia, The Department of Mines, Industry Regulation and Safety is developing resources to assist workplace participants in adapting to the new laws.  These will be available closer to the date the new laws become operational and will include information about the new regulations.
If you would like to know more about the WA WHS Act 2020 and how your business can prepare head to WA Government Website or speak to your insurance provider.
At Ledge, we partner with a number of key stakeholders who will be able to assist you. Contact your Ledge Finance Executive or call our offices on (08) 6318 2777 or email secure@ledge.com.au for more information.