As the global transition to a greener, emission-free future through ESG technology innovation gathers momentum, a WA company is leading the charge.
EcoQuip's award-winning Mobile Solar Lighting Tower (MSLT4) is a popular ESG solution with clients in the mining, civil and infrastructure construction industries. Thanks to the company's innovative approach, the team was tasked with meeting specific goals in their client's mission to preserve local fauna.
In 2019, EcoQuip was requested to trial the MSLT4 at a client site in WA's Pilbara region to meet a uniquely sensitive environmental goal. A critical requirement of the proposal was that the MSLT4 complied with the client's environmental requirements and turtle hatchling conservation goals.
EcoQuip was asked to integrate a new "turtle friendly" illumination solution, delivering a specific low wave-length amber light capability to ensure turtle hatchlings were not disorientated as they dashed to the ocean. Bright artificial white light can result in hatchlings getting lost on their way to the ocean, so a turtle-friendly solution was required to ensure their lifecycle was unaffected by the resource project activities.
The accelerated research, development and trial program was a great success, and in 2021 EcoQuip secured a 'beachhead' five-year hire agreement, deploying an initial 25 MSLT4 units at the client site.
EcoQuip designed and developed the MSLT4 in collaboration with US-domiciled military equipment manufacturers and aerospace electronics and software partners. The MSLT4 incorporates a US military build spec, a unique high efficiency power management system, superior illumination and remote control and telemetry capability delivering real-time data analytics.
The advantages of the MSLT4 units include the displacement of existing diesel-fuelled lighting tower fleet, eliminating fossil fuel use and scope 1 carbon emissions. It also reduces site mobile lighting costs by ~50%. Further ESG benefits include no noise, vibration or odour emissions and risk of hydrocarbon spills.
The EcoQuip MSLT4 can be configured to perform alternative 'mission critical' functions, including mobile network reinforcement to support autonomous mining systems, remote CCTV security surveillance and environmental monitoring – critical capabilities required for operating the mines of the future.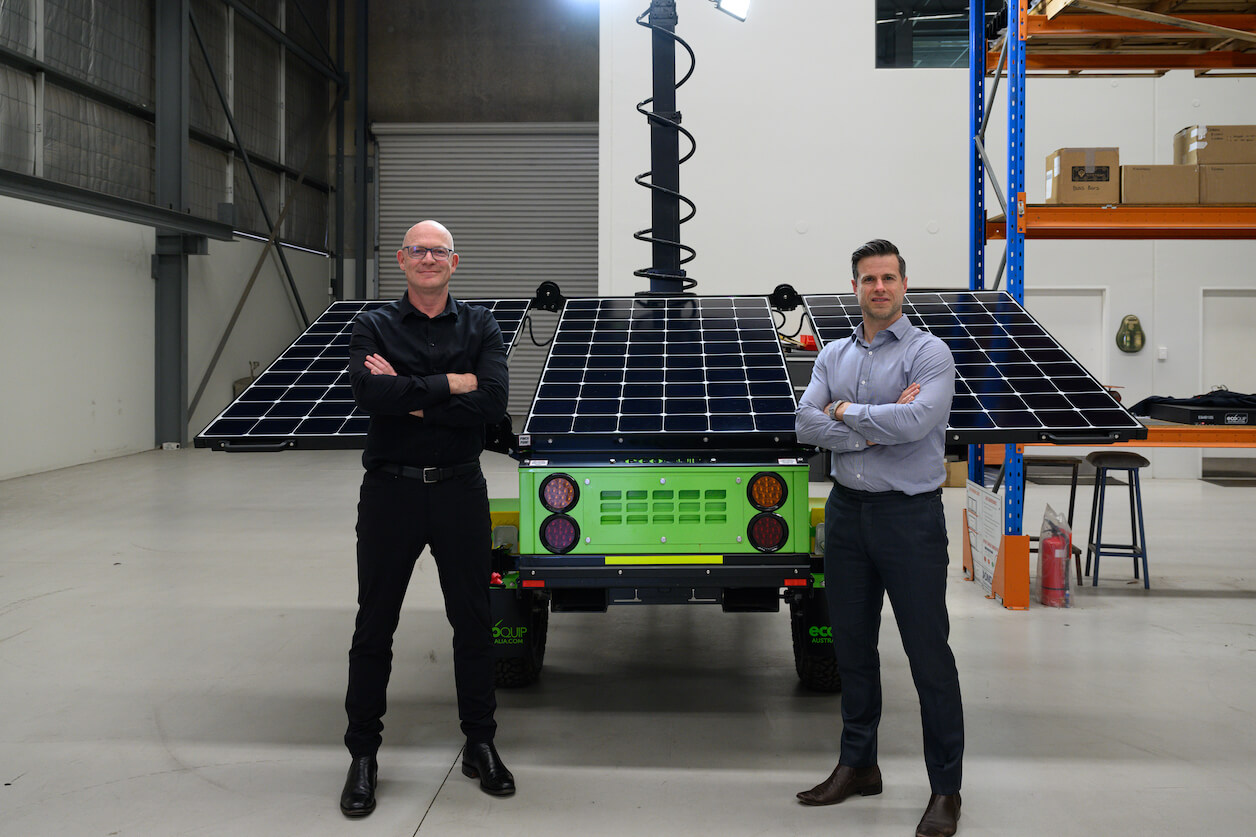 To finance the manufacture of the MSLT4 units, EcoQuip turned to Ledge Finance.
"Previous experience meant we understood that Ledge Finance was the pre-eminent SME corporate finance team to assist with securing credit finance," said EcoQuip Executive Chairman Adam Boyd.
"We needed a partner with the experience and ability to evaluate new ESG technology that maintained strong and trusted relationships with institutional credit financers".
"Furthermore, a partner capable of supporting our ambitious MSLT4 fleet growth plans was an essential part of the bigger picture. Ledge Finance was the right choice delivering an accelerated credit facility approval and funding result."
EcoQuip General Manager Dave Sharp said that working with Ledge Finance was a "fantastic decision".
"New technology finance is challenging to secure, and Ledge did the heavy lifting," he said.
"They had intimate knowledge of the go-to banking partners that would support EcoQuip's new ESG solutions. We are excited about EcoQuip's growth plans and will be working with Ledge Finance to finance our future."
Ledge Finance Finance Executive Craig Ruthven said working with EcoQuip to secure finance had been rewarding.
"The push for renewables is gaining momentum, with various lenders policy criteria containing ESG elements," said Mr Ruthven.
"Accordingly, partnering with the right financier who placed a high value on ESG became a core strategy. As such, Ledge Finance is proud to partner with EcoQuip and support their growth aspiration with further opportunities on the horizon."
To learn more about how Ledge Finance can assist with your business finance solutions, contact us today.