Did you know that Millennials, those born between 1981 and 1996, is the largest generation yet?
By 2025, most Millennials will be in the workforce and the next generation "Gen Z" would have entered.
We are familiar with new generations entering the workforce but what do younger generations have to offer and why should businesses have a key focus on creating a multi-generational workplace?
Can you imagine being born into a world where your parents could use Google to search for 'most popular baby names'? Gen Z have lived and breathed in a digitalised world from the moment they were born which makes them ideal to work in a business landscape that is becoming more technologically advanced everyday.
Gen Z entering the workforce means there will be four generations working together at the same time.
There are many reasons why people are working for longer including:
An increase in life expectancy
Increase in legal retirement age
Continued mental stimulation
Education no longer stops at the end of school or university, as it is so widely accessible on the internet
Older generations working longer to support their family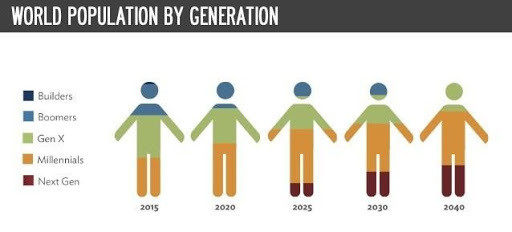 So, what does a diverse generation mix bring to the workplace?
Different perspectives
Younger people bring a fresh perspective to the workplace. This teamed with the point of view of an experienced individual who has been working for decades can be extremely powerful. It creates an environment where people can bounce ideas off one another and reach a result that may have never been possible with a limited perspective.
Business & employee growth
The older generations teach the younger generations and vice versa. Creating a space where all individuals are encouraged to share their thoughts on new potential business ideas is a key factor to foster this growth for both employees and the business.
Tech advancement
Younger generations tend to be more advanced in the tech space, which is understandable as they have spent most of their lives in a digitalised world. Increasing the generation mix in a workplace can help to ensure the business continues to move forward with the times and adapt to using new software and technology.
Increase motivation – drives innovation
An increase in motivation leads to greater engagement, performance and can boost team morale and culture. New generations are challenging existing operating models and modernising processes.
Reach a greater purpose
Millennials and Generation Z are entering the workforce as purpose driven leaders. These leaders are motivated throughout their career to reach results for reasons other than money.
"[G]etting purpose right builds organisational resilience and, crucially, improves long-term financial performance." Ernst & Young
Creating an age diverse workplace where employees are motivated to reach a clear goal can lead to great prosperity.
Involving young and older people in a company's transformation can be a huge challenge. Maintaining a strong level of motivation amongst all employees is what will help to secure the future for many businesses.
3 ways to create a multi-generational workplace
Create a meaningful purpose and a shared goal
Invest in training and development
Provide an opportunity for all
In the current business landscape, being able to adapt to change has been a key feature for the success of many businesses. At Ledge, we have strong relationships with various professional services firms who may be able to assist your business growth or help you navigate the changing environment. Whatever your needs may be, whether it's accounting, legal, financial planning or any other service, contact your Ledge Finance Executive directly, or contact us here and we will be able to assist.