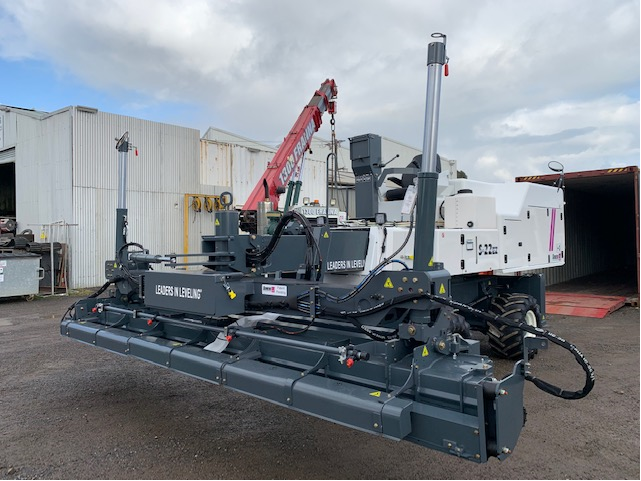 Ledge recently had the pleasure of sourcing finance for Westcon Contracting, a family owned and operated commercial concreting business based in Malaga, for a New Somero® Laser Screed® Machine.
Screeding is a smoothing and levelling process involved in the delivery of concrete slabs in the construction industry. Delivered manually on smaller projects, Somero built its first commercial grade Laser Screed in 1986 to automate the process.
With only two of its kind in Australia, the Somero model S-22EZ is the most technologically advanced Laser Screed®  Machine available in the world. It's equipped with 360° machine rotation, a 6 metre telescopic boom and various pivoting screenhead options.
"The S-22EZ continues the tradition of delivering the industry's highest quality and production rates with unsurpassed maneuverability." – Somero Enterprises Inc.
Westcon Contracting Managing Director, Christon Apostoles, said the new Somero will play a huge role in enabling the company to continue to deliver exceptional results in record time.
"Investing in the Somero Laser Screed® Machine has been a huge step in the right direction for Westcon Contracting. The new machine has enabled us to not only increase efficiency and productivity but also remain competitive, providing a better product and adding value to our client's projects."
"Working with Craig Ruthven from Ledge to acquire the financing  was an easy process and I'm pleased to say that we have already seen some fantastic results with the Somero."
Westcon Contracting has been providing commercial concreting services to Perth and the wider suburbs for over 20 years when Christon's father wished to retire. Christon took the opportunity to continue the business and took over his fathers plant, employees and continued business "as usual" under a new business name.
Westcon Contracting's client portfolio takes in a major cross section of industries across large and mid size commercial builders & property developers.
The business has two key focuses being the quality of their workmanship and their ability to deliver projects on time – something that is crucial as the task of laying concrete is a task that is part of a much larger project often with strict deadlines.
If you have a commercial concreting job in Western Australia that would benefit from the huge time savings and efficiencies of the new laser screed contact Christon Apostoles on 0417 937 543, email christon@westconcontracting.com.au, or visit the Weston Contracting website.
Somero Laser Screed® Machine in action
Somero Laser Screed is the perfect fit for Westcon Contracting to continue their competitive advantage in the WA market. Its many features enable a range of advantages from simple operation, quick clean up time and upgradable technology.
Additional features and benefits of the Somero S-22EZ Laser Screed® Machine:
Full Color LCD Display w/ Integrated Diagnostics
EZ Clean Screed Head*
Head Transport Stands*
Column-Block Protection
Hydraulic Screed Head Rotation
360° Machine Rotation
Somero Quick GradeSet SystemTM
LED Work Lights & Compartment Lighting*
Built-In Storage
Automatic Throttle
Programmable Quick Pass
Illuminating Fuse Panel*
OASIS Laser Control System
Soft Landing
For more information on the Somero Laser Screed S-22EZ click here or contact the Australia Territory Manager Andrew Howard on +61 417 056 452 or email AHoward@somero.com.