The way we work, live and go about our everyday lives has changed quite a bit in recent times. Although Covid-19 continues to have a significant impact the economy, the Perth housing market has been somewhat resilient. Sometimes it pays off to be one of the most secluded states in the world!
Australian property market outlook
It's no doubt that Covid-19 has had an immense effect on the Australian housing market. One of the most prominent impacts has been the reduction in new immigrants, with overseas immigration going from around 250,000 people a year to practically zero in just over a month.
The closure of international borders, which are expected to remain in place until 2021, have created uncertainty around the economy's population outlook.
This has had a flow on effect to the construction industry with the number of monthly dwellings dropping to just over 12,000 in June 2020.
According to the QBE Australian Housing Outlook 2020 – 2023 Report published in September 2020,  total yearly dwelling commencements in Australia are expected to drop to 163,000 in 2020/21, declining further to 152,000 in 2021/22, before recovering to 175,000 in 2022/23.
Australian capital cities housing markets summary
Median house prices at June 2020 saw Sydney to continue to hold out the top spot for the most expensive. Perth was the second lowest median house and unit price at $497,500 and $353,500 respectively.
Since these numbers were reported, Perth's median house price has come down even further to $463,600 as at October 2020. These low prices won't last forever, as Perth is expected to have a 7.5% growth between 2020-23 for median house prices and 6.8% for unit prices.
Perth's resilient housing market
Perth's property prices are expected to be more resilient than other states, which can be linked to:
Early introduction of lockdown restrictions
Moderately low impact of Covid-19 on the state's economy
The state has been experiencing a slow decline since December 2014, meaning there was no shock to the market.
Demand vs. supply: Sales activity in Perth residential market continues to track consistently, with sales exceeding 700 transactions for the 17th consecutive week at the close of September.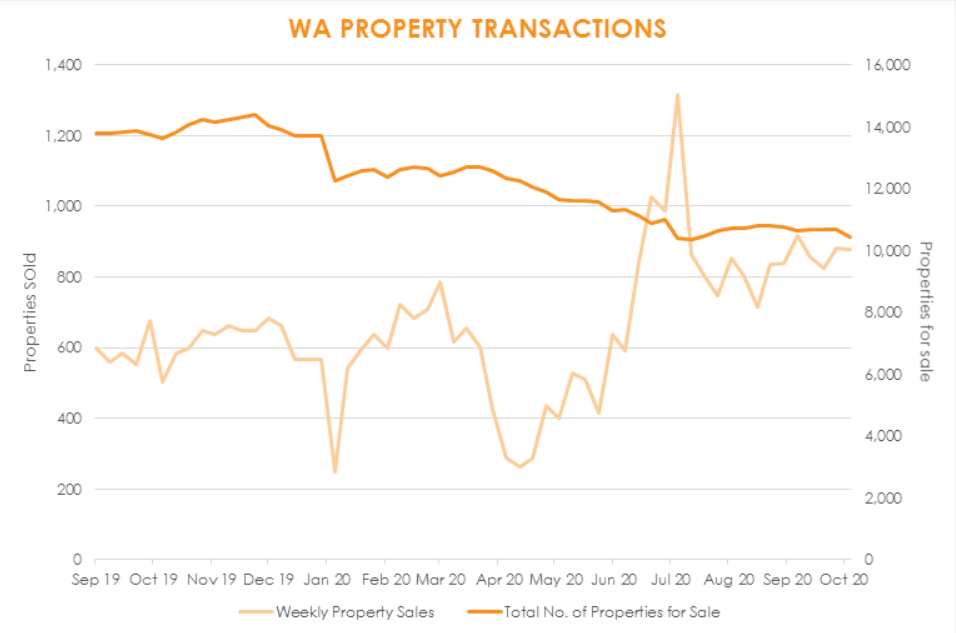 Outlook on Perth property prices
According to the QBE report, "Increasing optimism in mining as China recovers from COVID-19 will benefit Perth, with house prices forecast to decline comparatively mildly by 2.9% in 2020/21, before rising strongly in 2021/22 and 2022/23 as the housing market tightens. By June 2023, the median house price is expected to reach $535,000 (almost 8% higher than June 2020 levels)."
Key drivers of the Perth housing market
The key drivers of the Perth housing market include:
Well-performing resources market
Western Australia's resources sector successfully navigated the impacts of Covid-19 to deliver a record total of $172 billion sales in 2019-20.
This result was predominantly driven by the following:
Iron ore sales valued at a record $103 billion on the back of the near record sales volumes and an eight-year price high.
Gold sales reaching another all-time high of almost $16 billion supported by a record annual average Australian dollar gold price of more than $2,300 per ounce.
Oil sales increasing to $2.6 billion, despite dramatic price falls across the first half of 2020, on higher output through the start-up of new projects and the return to production of others.
Nickel sales recovering amid higher prices in the second half of 2019 to more than $3.1 billion, their highest level since 2014-15.
Government Housing Grants, Stimulus Incentives, low interest rates & other stimulus packages
The introduction of Government housing grants, stimulus packages, lower interest rates and mortgage repayment deferrals have all played a role in keeping the property market in a stable position.
With stamp duty concessions and first home owner grants continuing to drive property sales by motivating new buyers to enter the Perth housing market.
Perth house prices remain low
… but it won't be like this forever.
As mentioned above, Perth house prices are currently sitting on a median value of $463,600 With low prices, low interest rates and government housing grants, now is the perfect time to be on the lookout for your next investment property, family home or maybe even your first home.
Applying for a home loan
When approaching a bank or lender for a home loan it's crucial to ensure you provide them with the right information.
Why? Nowadays, turnaround time from application to approval is taking a lot longer. If your application is denied the first-time round, you will have to reapply. This will take up even more time and increase unnecessary stress for you.
At Ledge, our property finance specialist will be able to assist with any questions you may have, whether it's regarding the current market, interest rates, government grants, how to apply for finance, and so on. Get in touch with your Ledge account manager or contact our offices here and we will be more than happy to assist.