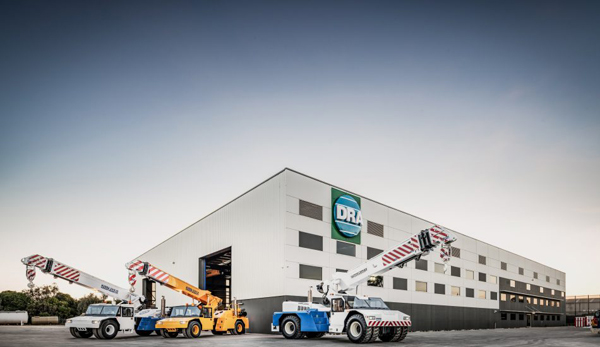 Humma 55T: The new standard
Founded in 1971, DRA's first business was a site abrasive blast cleaning and coating company servicing the chemical, oil and petrochemical industries.
In 1996 Construct Engineering, a division of DRA noticed a gap in the heavy engineering maintenance sector which led to the launch of the Humma pick and carry crane project. As the pick and carry crane market evolved, so too did the design and quality of the cranes available.
Fast forward to 2020 and there is now five different Humma crane models including an 18, 20, 25, 35 and more recently the 55 tonne – which was three years in the making.
Humma is the only Australian owned and manufactured range of pick and carry cranes with the Humma 55T being the highest rated capacity crane.
Other key features of the Humma 55T which enables it to reduce maintenance and operations costs, crane downtime, have greater flexibility and safety of operations include:
Automotive, not Industrial Cummins engine is used for up to 25% fuel cost savings
Advanced dynamic hydraulic suspension will automatically level the crane during lifting, keeping the chassis at 0 degrees, allowing the Humma to operate on uneven ground up to 5 degrees of side slope
It's 85 km/h road speed and road registerable means the Humma is versatile and can move from site to site with ease
Advanced electronic control system incorporates Dual 12" colour touch screens displays. Large easy to read LMI incorporating on screen data logging and dynamic load charts
Winch hours, crane hours and lift logs can be viewed on displays. This information can also be downloaded to a USB for review
Air-spring suspension – replaces the leaf spring used by others and greatly reduces road and engine noise and road vibration with cabin noise below the Australian standard at 67 decibels. The absence of vibration also helps to extend the life of pivot bearings and wear on articulation joint
Unobstructed front vision of 180 degrees with 4 cameras allowing the operator to view rear, sides and the winch while operating, all safe measures
Manufacturing and assembly of the cranes takes place at the DRA facility in Jandakot, Western Australia. To find out more on the Humma 55T crane and the many capabilities head to their website here or contact Peter Dalla Riva on (08) 9417 2300 for more information.