CAFBA Annual Conference & Awards Night 2019
The CAFBA (Commercial and Asset Finance Brokers Association of Australia) Annual Conference and Awards Night 2019 were held last Friday and what a fantastic day and night of events it was. The main focus for the conference was on innovation and change which is extremely topical in the current market conditions.
CAFBA President, David Gandolfo, opened the annual conference by highlighting the role of CAFBA and the key points that would be discussed throughout the morning. These topics included, political and regulatory policies affecting the market, disparity in the market, responsible lending laws and CAFBA's growing initiative to educate with a commercial finance focus in mind.
We then heard from Ian Burnett, General Manager Broker, Agency and Specialist Services at the Commonwealth Bank, who further discussed the compliance and regulation laws banks are currently dealing with, noting that the majority of his time is spent working on internal risk. Burnett touched on some exciting new and/or improved platforms, these include CommBank Alpha, Energy Efficient Equipment Finance (EEEF) and ABCD Commercial.
Having the digital capacity to allow for electronic documentation and process enhancements was a key point of innovation that CBA are continually researching and implementing, as well as providing education skills and training for brokers to better CBA's service to the broking channel.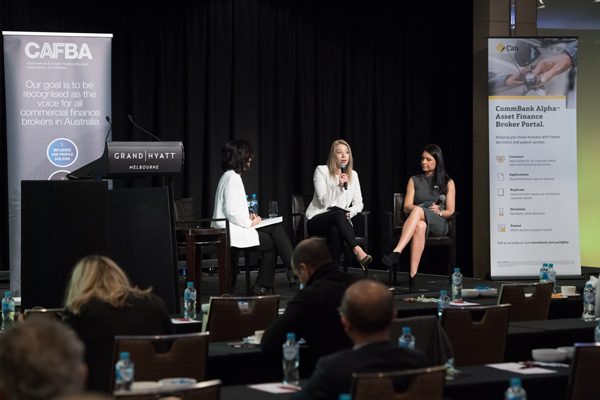 Suzi Finkelstein and Betti Tovishazy from Women & Leadership Australia (WLA) did a Q&A session with Finance Broker, Carla Reynolds who took part in the WLA courses. They spoke about the fantastic programs that WLA run for women to excel in their careers and become better leaders. Reynolds stated that the WLA course has helped her immensely throughout her career with communication skills, self belief and confidence coming in at the top of the list.
The guest speaker, Dominic Thurbon, a change agent who has worked with companies and communities around Australia and the world to help them crack the code for driving innovation, future-proofing their workforce and developing brands that really matter. Thurbon used his words to disrupt our current thinking and encourage us to 'drive' rather than 'manage' change. Some key quotes that we took from his presentation were:
'Ability to thrive is more about challenging our assumptions than predicting the future'
'There is nothing 'normal' about the status quo'
'Escaping the gravity of our own success'
'Where there is ego there is excess'
There were a number of presenters who spoke at the CAFBA Conference including:
Lex Dwyer, Managing Director at Corporate Fitness Services P/L who presented on the Infinite Circle;
James Bomford Dropbox Ambassador and CEO at Right Click IT who explored how to Harness Innovation to Bolster Productivity;
Adelaide Timbrell ANZ Economist who spoke about Australia's current economic conditions and most who attended would say, 'somehow made a presentation about economic sound exciting';
Steven York from Bank of Queensland presenting on Cybercrime;
Vinnie D'Alessandro Raishio on the new CAFBA Digital Champions Program;
Ian Marshall from Macquarie on don't leave change to chance;
Gerard Hermans from Institute of Strategic Management spoke about new programs for a diploma of financial services; and
Last but not least, Shaun Purcell from Metro Finance on the future of technology in the commercial and asset finance industry.
Once the conference was complete, we all had a few hours until the Awards night commenced later that evening…
Firstly, what an incredible venue and the turnout was absolutely fantastic, with nearly 300 people in attendance.
Two major initiatives announced throughout the night are the CAFBA Female State Champion committee and Commercial Lending Young Professionals (CLYP). These committees were formulated as a core strategy to attract more diverse entrants into the commercial and asset finance industry.
These divisions of CAFBA will provide a network support group and skill development events to foster and grow generational and gender change as well as create groups that can advocate for people to enter the commercial broking space.
CAFBA has also created an educational pathway into the profession, hence the development of the Certificate IV in Financial Services , specialising in commercial and asset finance and the soon to be released Diploma.
Along with announcing a number of exciting initiatives, the CAFBA Awards Night provides an opportunity to recognise those in the commercial and asset finance industry and talk about new initiatives in the industry.
We would like to say a big congratulations to all the finalists and winners at the CAFBA National Broker and Financier Awards.
To see more from the CAFBA Annual Conference and Awards Night 2019, head to CAFBA's LinkedIn or Facebook page, or to the CAFBA website.